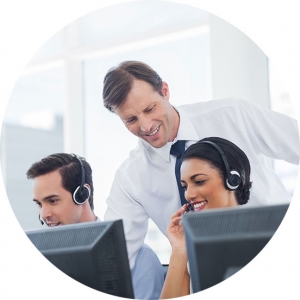 AGTek Solutions has expert consultants who can assist in understanding client requirement, do a need assessment and process a to be solution with the latest and greatest solution in the market and  setup a contact-call center from 5 seats to 1500 seats in no time at a very affordable cost .
Agtek has partner with the Industry best providers like Genesys, Cisco, Digium,  Verint and more  to deliver a robust solution which help its client deliver a top of the class Customer experience with Omni Channel Integration and Business Intelligence Reporting .
Professional Services — Our professional services team has a deep background in the contact center industry. They ask the right questions at the outset to provide fast and accurate roll-out of the solution. Understanding that a contact center is a dynamic environment and change is constant, we offer cost-effective professional services engagements to ensure operational efficiency and project success on all of our implementations.
Work Force Management Genesys, Verint.
Inbound Outbound Genesys Cisco Digium
Training and Certification — We  provide you with the skills to fully administer your solution, we offer on-site and online training, either instructor-led or self-paced. Regardless of training method, certifications are awarded upon successful course completion.
Managed Services — For clients who prefer AGTek to wholly own ongoing administration, we offer Managed Services. These services can include:
Consultation and direct technical support in developing design proposals, life cycle planning, problem management, integration and system configuration
Evaluation and recommendations on specific products and platforms to provide cost effective solutions that meet architectural requirements
System administration and support of coordinated and scheduled moves, adds or changes to TantaComm configuration
Coaching and guidance for network, systems and telephony engineers and support staff, as part of team-based activities
Creation and maintenance of policies, procedures and documentation to adapt to existing and current release technologies and business requirements